Monday 16th September 2019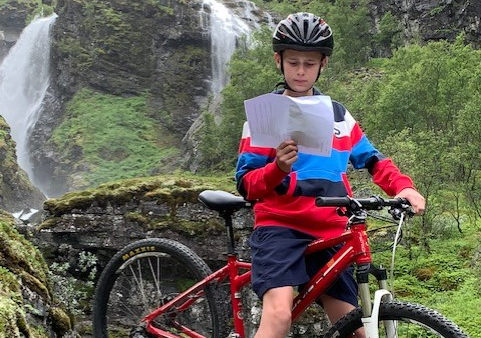 The first two weeks of the school term have absolutely flown by! I should not be surprised that it has after 27 years teaching, but the start of term still takes my breath away! We are all settling in to the new school year extremely well and I have been immensely impressed with the standard of work around school. For my first blog of the year I would like to focus on Year 8.
As many of you know we have an 'Extreme Reading' competition amongst staff and pupils over the summer holiday to promote reading with all members of our school community, as it is so incredibly important to success in life, never mind the 5 years our pupils are here. It is done in a fun way and I always enjoy looking through the imaginative ways pupils have thought of to enter the competition. I just wanted to share this picture with you from Benjamin in 8C reading 'Boy 87'. I hope he didn't fall off his bike whilst reading! Ms Kelly told me that Francesca in 8H, has been selected to represent the North West in an international acrobatic gymnastics competition in Devon at the end of September. Wow, good luck Francesca!
Well done to 8G, 8H, 8A, 8C, 8S, 8M and 8O for achieving 100% Attendance last week!
Mr O'Callaghan told me that there was great work from 8B, 8C, 8G, 8H, 8L, 8M, 8O and 8S who didn't receive any late marks last week – only two lates in the whole year. Keep it up Year 8!
Quote for the week: "I believe that anyone can be what they want to be; it just comes down to hard work"
Mr M Dumican
Posted by Victoria Ruane on 16 September 2019
Category: Headteacher's blog