World Karate Championships Success for Amber
World Karate Championships Success for Amber
26 June 2018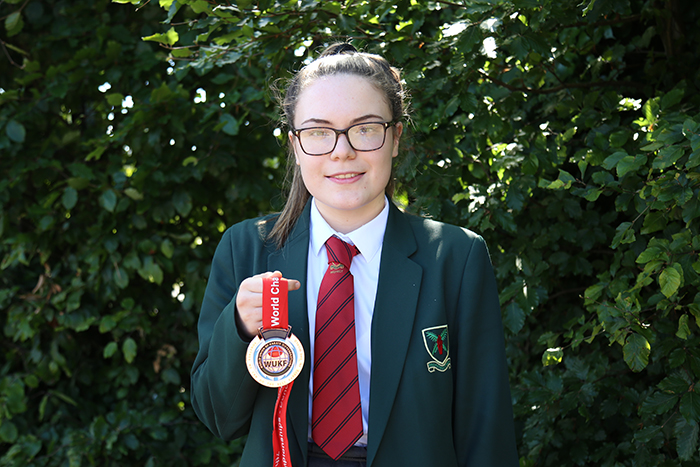 I have been training at karate since I was three years old and have been training with The English Karate Academy since I was five. I typically trained for 6-8 hours per week for several years, which earned me my 2nd Dan Black Belt. However, in the last year, since I started to compete in competitions, I have been training up to 12 hours each week, attending England squad training and also summer and Easter training camps.
I have won several team and individual medals on the UK karate competition circuit which resulted in my selection for the EKA England Squad to compete in the 7th World Union of Karate Federations World Championships. It was held in Dundee over four days, with participants from 84 karate federations from 40 countries, with almost 2500 competitors.
We left at 5am on Wednesday to travel to Dundee and register. The competition started on Thursday at 8am and ran until 6pm on Sunday, with a long drive home on Monday. On Friday evening there was an opening ceremony which was an amazing experience: people from all around the world were chanting, celebrating and having fun all under one roof at the Dundee Ice arena, it was the first time I had ever witnessed something so spectacular! Everyone was so friendly to each other, even people who had been punching and kicking each other the previous two days stood side by side with one another in this incredible ceremony. As a team, EKA came 7th out of the 84 federations that took part and England came 1st out of the 40 countries that took part, which is amazing.
I entered in Kumite (fighting) as part of a team and also individually. In the team event, we beat several teams including the USA on our way to the semi-final where we just lost to Romania. This earned us 3rd place in the world and a Bronze Medal.
During the competition I fought several tough fights and earned lots of bruises (but you should see the other girls).
Now that the world championships are over I feel much more relaxed. Before and during the competition, I felt very tense due to the fact I was going to be fighting people who are the best in their country and one of the best in the world. In the future, I hope to compete in many more competitions around the UK, at the Europeans and the World Championships in two years' time. I hope that I will be able to improve and next time I am aiming for the gold medal.
by Amber Pimblett, 10S1
For such a polite and unassuming young lady, Amber keeps her obvious talent well hidden in school. We are delighted with Amber's achievement and we wish her every success in future competitions. With dedication such as this, we are certain that she will achieve her dream of securing that gold medal, tucking it firmly under her black belt, in the not-too-distant future!