RIP Bishop Vincent Malone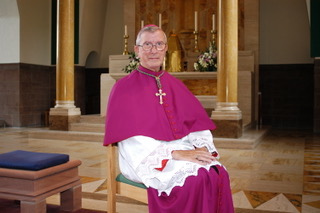 20 May 2020
It is with great sadness that the death is announced of the Right Reverend Vincent Malone, Auxiliary Bishop Emeritus of Liverpool and Titular Bishop of Abora. Bishop Malone died this morning, Monday 18 May, at the Royal Liverpool Hospital. He was admitted to hospital after testing positive for COVID-19 last week.
Bishop Vincent trained for the priesthood at St Joseph's College, Upholland, and was ordained priest at St Oswald's Church, Old Swan, Liverpool on 18 September 1955. After a number of years spent in the teaching profession, mainly at Cardinal Allen Grammar School, Liverpool, he became chaplain to the University of Liverpool in 1971 and then Administrator of the Metropolitan Cathedral of Christ the King in 1979.
On 13 May 1989 he was named as Titular Bishop of Abora and Auxiliary Bishop of Liverpool, and received episcopal consecration the following 3 July. His resignation as Auxiliary Bishop was accepted on 26 October 2006, shortly after his 75th birthday, but he continued in his roles as Vicar General and Trustee of the Archdiocese until last year and as Canon of the Metropolitan Cathedral Chapter until his death.
We give thanks to God for the ministry and service of Bishop Vincent Malone.
May he rest in peace.