Y8 GIRLS WIN at the #CyberFirst Girls Competition 2023 in the North West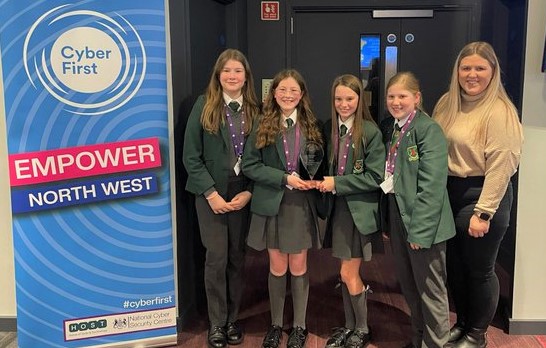 6 February 2023
Many congratulations to our Year 8 girls:- E Rowlance, A Rowson, S Doyle and A Williamson who won first place at the NCSC cyber security competition held in Manchester on Saturday (4th Feb 2023).
This is an AMAZING outcome, as 8,700 girls entered the competition, with 70 schools from the Northwest. There were 12 schools in the finals on Saturday and our Y8 super team finished ahead of them all!
The girls won some amazing prizes each - a laptop, air pods, speakers, hoodies, chilly bottles and £1,000 for our Computing Department, so Miss Lee is obviously delighted!
Huge thanks to Miss Lee for her support and encouragement (and for accompanying the girls to the competition on Saturday, along with Miss O Walsh). Obviously, the girls are inspired by what they learn in school and this motivates them to want to be the best!
If you see the girls around school, please congratulate them on their amazing achievement - we are all so very proud of them!