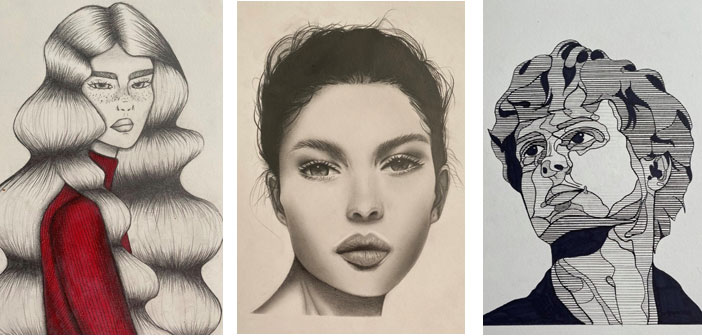 26 April 2021
Three of our talented pupils, Emily G 11C, Leo H 10W and Lily W 10B have recently entered the Young Artist of the Year competition. The competition is run by Warrington & Vale Royal College who invited students in Year 10 and Year 11 to submit their artwork. The winning prize was an artist kit worth £65, containing a selection of artists' essentials to help develop their artistic skills further. Pupils from different schools in the region could enter artwork from different mediums such as drawing, collage and photography showcasing everyone's individual interests and talents.
We are really proud to announce that Emily (11C) was chosen as the Young Artist of the Year with three of her amazing portraits - well done Emily, your artwork speaks for itself, amazing! Leo (10W) was chosen as a runner up with his photography and Lily (10B) was a finalist with her tonal drawing. We would like to congratulate them all on this great achievement. If you would like to have a look at the online exhibition and explore these different pupils' artwork then click here.
During lockdown, photography asked us to create ice pictures whilst the weather was so cold. I created this by placing flowers in food bags, adding water and freezing them. I enjoy editing and adding filters to photographs to ensure that they look clear and focus on the main object.
I was shocked to be a finalist because I didn't think my work would be good enough in comparison to other entries but proud that my work was considered.
-Leo H 10W
I chose to enter three portraits to the competition, as I feel I can convey my skill and effort most clearly through a distinctive face. It may be due to the fact that a simple pencil is the first thing I found I could use properly; but it always has been my ideal medium and has purely become second nature. I enjoy being able to capture something different in each person, whether it be realistic or stylised; each face provides a certain essence that inspires me to put my pencil to paper. I was extremely flattered to find that others had appreciated my artistic efforts enough to reward me so generously.
-Emily G 11C
I entered my little mermaid drawing because I love the theme of Disney and I did it in tonal art which at the time, I wasn't really good at but through time in my art classes I have improved my skills. My love for art really started in primary school and I would have never thought about choosing art for GCSE. I think my interest developed in Year 8 when I was encouraged by my art teacher and told that my drawing was really good. We did a lot of drawing in class and had to copy the subject and when looking at my artwork I realised it did look a lot like the original picture. Ever since that, I really got more confident in art. Art is just a really relaxing lesson where I get to express my art skills and creations and it's just a lot of fun. The competition was aimed at a lot of Year 10 and Year 11 pupils from different school, so I feel ecstatic to be a finalist.
-Lily W 10B
Newsletter