Holly and Mia Grab the Gold!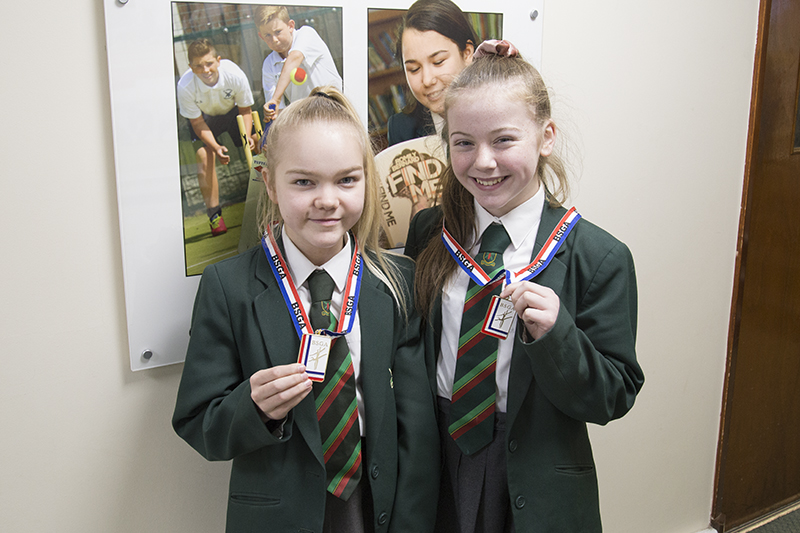 10 May 2019
On the weekend of 4th May we, (Holly Williams and Mia Ellison) represented school at the British Schools Gymnastics Finals. We are both competitive gymnasts and train fourteen hours per week. In the build up to this competition we had to practice our routine multiple times every session, being judged and getting feedback from our coaches, making sure we made it as perfect as we could. Over the weeks, our scores in training got better and better, which built our confidence and made us excited for the competition.
To get to the finals we had to compete in the North West Schools Championships, where we were against partnerships from ten other schools. The routine went really well, and we won, also getting the highest score out of all the categories at the whole competition. This meant we had qualified to represent St Edmund Arrowsmith at the British Finals, where we would be against the champions from eleven different regions.
At the British Finals we were proud to wear our St Edmund Arrowsmith P.E kit, representing our school. The final was at Fenton Manor in Stoke, a big venue, with a big audience and an electric atmosphere. We warmed up our routine on a back floor, and we could feel our competitors watching us. We were both nervous but excited to perform our routine in front of the judges and crowd. We marched onto the competition floor and performed our routine as well as we ever had. We wouldn't know the result until the medal presentations. When we were announced as British Champions the feeling was amazing, making all the hard work worthwhile. Afterwards we were told we were the youngest partnership in the Under 14 category, and that our routine was one of only two at the whole championships that scored more than 9. Now we are back to training, and will work hard to try to defend our British title and win again next year.
by Holly Williams, 7H