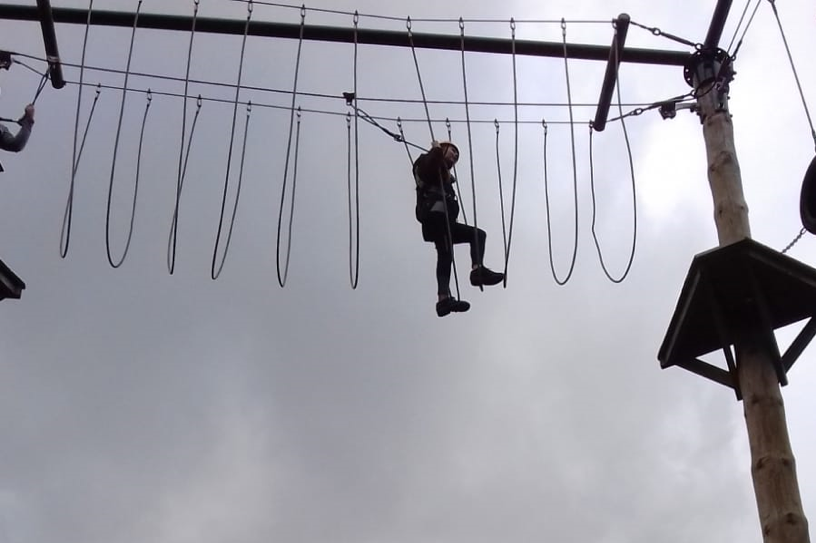 21 May 2019
45 pupils went on St Edmund Arrowsmith High School's first ever DARE trip on Thursday May 9th after staff in assemblies dared Key Stage 3 students to try something new or to push themselves out of their comfort zones. The students spent an enjoyable and action-packed 2 hours at Haigh Hall Wigan taking part in various high rope activities instructed by Wigan Borough's expert outdoor learning staff and encouraged by the school's own Learning Champion teachers: Mrs Golba, Mrs Nuttall, Miss Hall, Miss Foster and Miss Whittle. Students were excited about the day and some admitted to feeling a little bit nervous about the activity that they were required to do. However, after challenging themselves, they felt proud of their achievements and most of them could not wait to have another go at the activities and test themselves again.
"Young people today are often accused of being the 'snowflake generation', "explained Mrs Payne, associate assistant headteacher. "We want to prove that viewpoint wrong! Students at our school rise up to a challenge rather than have a meltdown, as was proved on May 9th when many of them faced their fears and scaled heights that they may not have thought themselves capable of climbing."
Staff at St Edmund Arrowsmith want to inspire their students to DREAM big, to have ADVENTURES, to take calculated RISKS and to involve themselves in a range of EXPERIENCES in order to enhance their chances of future success and this is the aim of the DARE initiative. It is hoped that this will be the first of many trips where the students are dared to do something different and given opportunities to develop the range of skills needed to be winners in life.