Sunshine at Scotsman's Flash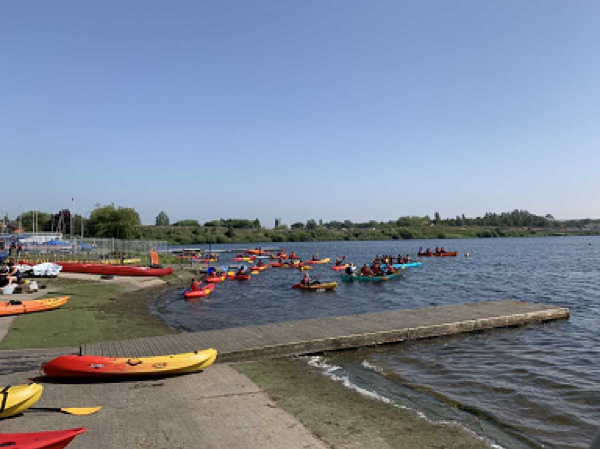 3 July 2019
The sun shone for the second DARE trip of the year and the forty students were glad of the warm weather for their canoeing lesson at Scotsman's Flash on Friday 28th June. The DARE initiative is all about dreaming big, having adventures, taking risks and experiencing something new and for many of the students, the first new experience of the day was the wrestling needed to encase themselves into tightly fitting wet suits.
Once that fun was over, it was down to the water's edge for expert instruction and guidance from the Wigan Outdoor Adventure Team. Many students admitted to being nervous before hand, but their nerves quickly vanished and it wasn't long before they were expertly gliding across the water – Oxford and Cambridge watch out - Eddies might be out to steal the boat race crown!
All in all, the trip was a great success. Students really supported and helped each other, tried something new and have broadened their horizons as a result of taking part.
One year 9 student commented,
"I really enjoyed today's trip because it was a new experience and quite different to anything I have tried before. My favourites were the single canoes because it was nice trying to paddle independently. I didn't really like getting my hair wet but it was all part of the experience!"
Another Y7 girl also said,
"Today was amazing … At first the experience was scary but when we got to the middle of the lake it got more fun because we were playing games. I fell in a couple of times but it is all apart of the fun! My favourite part was when we got to jump in and changed boats. I really liked my experience because the teachers were very kind, I would definitely go again. I would like to thank all of the teachers who took me for the time of my life."
Eddie's DARE team are already wondering what the next adventure will be …